This is me
My name is Gisela Fleischer. I'm a visual artist, propmaker, musician, performer and creative multi-tasker.
I enjoy the creative process, to use my hands, and to try out all kinds of materials. I've been constantly creating since I was a toddler. My childhood was filled with loads of artistic projects and creative experiments, and that's still the way things are. It has always seemed clear to me that creativity has been, and is, as important to me as eating or sleeping.
I worked as an museum's art educator for a long time. During 2019 I started to work as a prop maker, and I'm currently a full-time propmaker for SVT (Sweden's Television).
Apart from visual art of any kind, I've also been making music for a long time and in a few different constellations. Since 2001, I've mostly been doing this solo, simply under the name Gisela. You may visit my music page ohgisela.com to listen to my songs.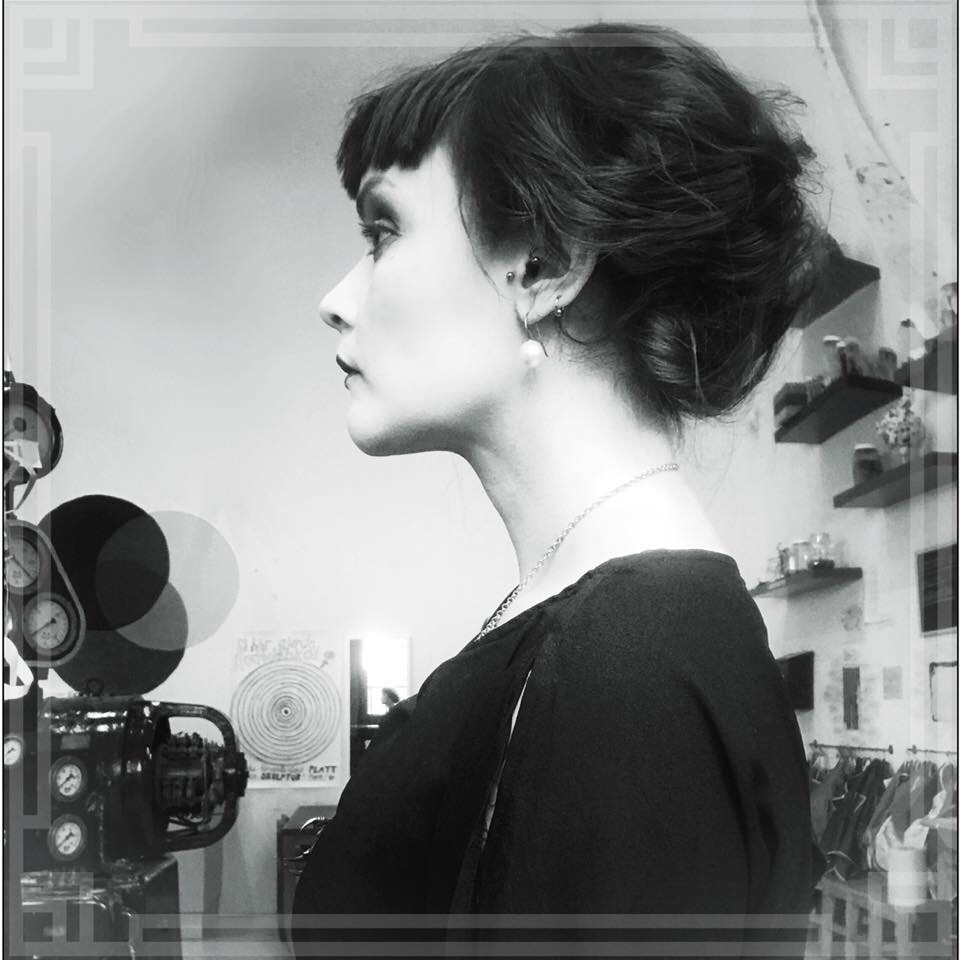 I enjoy documentaries, philosophy, movies, Victorian and Edwardian fashion, cats, veganism, yoga, esoteric and occult topics, flea markets and vintage, music, history, archaeology and mythology. I know more than most people do about sideshows, true crime, and alchemy. I'm also a huge Twin Peaks freak, occasionally even referred to as a Twin Peaks expert and scholar.
I'm based in Malmö, Sweden, where I live with my three cats. I was born in Halmstad, Sweden, in 1981.
My main personal web page is eskapi.com.

CV
Below you'll find a somewhat compressed biography presented through lists of my educations, work experience and artistic projects.

Work
Artistic work and projects
Twin Peaks writer, 25 Years Later Site, 2017 – present.
Propmaker (papier maché animals) for artist Annika Eriksson's exhibition The Social, Moderna Museet Malmö, 2017.
Workshops: Creativity and creative processes, Dramalogen, Halmstad, 2014 and 2016.
Performance artist, Makeriet, Malmö, May 2015.
Solo exhibition, Makeriet, Malmö, 2015.
Art book: 365 Masquerades – Every day is a masquerade. Self-published, 2015.
Performance artist, Ladyfest, Malmö, July 2014.
365 Masquerades – Every day is a masquerade – A one full year performance art project, where I transformed myself every day from January 1st until December 31st 2014. The 365 characters were presented every day on social media. The project was recognized by newspapers, blogs, the radio, social media and Swedish national television throughout the year.
Solo exhibition, Glassfabriken, Malmö, 2011.
Artist In My Residence – I invited artist Leif Holmstrand, whom I had never met before, to live in my apartment and use it as his work studio for a few days in the summer of 2010. The process and social interactions were recorded and documented by me and through the art that was created.
Solo exhibition, Rotundan, Halmstad, 2006.

Other work
Propmaker, Sveriges Television, Malmö. Full time, 2019 – present. Producing props, costumes and occasional set decor using a big variety of materials on assignment for TV shows such as Robins, Trädgårdstider, Musikhjälpen 2019, Antikmagasinet, Sommarskuggan, Saibo 3.0, and others.
Art educator, Moderna Museet Malmö. Full time, 2009 – 2019. Responsible for art educational projects for preschools, schools and adult education, as well as for families. Creative art workshops for all ages from babies up to seniors. Producing educational material for families, schools, groups, teachers and external parties.
Education administrator, Malmö University. 2008 – 2009.
Art educator and research assistant, Malmö Konstmuseum, 2007 – 2009.
Art educator and host, Malmö Konsthall. 2007 – 2009.
Museum guide, Malmö Museer. 2007 – 2009.
IT support, Malmö University, 2006 – 2008.
Internships
Malmö Konstmuseum (Malmö Art Museum), 2007. Art education for school groups, production of art educational material.
Pusterviksteatern (Pustervik Theater), Göteborg, 2001. Promoter, stage and backstage worker, graphic designer.
Rockstugan, Halmstad, 1996. Music education assistant in special educational projects. Work with music for adults with severe intellectual and physical disabilities.
Education
University degree
Bachelor of Arts, main subject Art history.
Art history, Lund University. 2002 – 2003, 2004 – 2005.
Side subjects:
Museology, Lund University. 2006 – 2007
Culture, media and aesthetics, Faculty of Education and Society, Malmö University. 2005 – 2006.
Cultural Studies, Malmö University, 2003.
Other educations
German, GLS Sprachenzentrum, Berlin. Summer of 2004.
Fine arts, Lunds Konst- och Designskola (Lund's Art and Design School), Lund. 2003 – 2004.
Folk high school – Graphic design, photography and information program, Jönköping. 2000 – 2001.
Secondary school – Theater, Sturegymnasiet in Halmstad, 1997 – 2000. Courses: Stage, mask and costume design, drama and dramaturgy, physical stage, voice, stage performance, theater theory, art and cultural history. Special project: documentary analogue photography.